Taking stock this autumn - Herd Genetic Reports
Date Posted: 26th October 2023
With genetics influencing as much as 50% of the milk income received on dairy farms, time spent taking stock of the genetic profile of the farm is always valuable. And with breeding just around the corner for many dairy herds this autumn, looking at the current herd genetic profile before selecting AI bulls can help set the herd on course for a profitable future.
The impact of genetics on farm profitability is vast, impacting on areas such as milk income, feed costs, vet and medicine costs, and fertility. However, over the course of a dairy cow's lifespan, typically less than 2% of all her variable costs are spent on her genetic make-up. Ahead of making breeding decisions this winter, evaluating what genetic strengths and weakness are present in the herd can help identify which animals to breed from and what traits to focus on when selecting potential bulls. One way to do this is through a free online tool, the AHDB Herd Genetic Report.
The AHDB Herd Genetic Report is available to any NI dairy farmer who undertakes regular milk recording and provides information on the genetic potential of all milking cows and youngstock in a herd. The report allows users to identify which animals are the most genetically profitable on farm and also gives information on individual traits such milk yield, milk components, lifespan, fertility and SCC. Summary information is available for groups of animals (e.g. lactation 1 animals, yearling heifers etc.) and for individual animals, which can be helpful when selecting animals for breeding replacement heifers.
An example of a Herd Genetic Report summary is shown below. In this example, we can see strong improvements from the oldest animals to the youngest in potential profitability (£PLI), milk constituents (fat and protein %) and lifespan, but at the same time increases in inbreeding levels and little change in maintenance costs. The performance of the herd on each of the traits listed below can also be benchmarked against national averages helping to identify strengths and any areas for improvement.
Figure 1: Example herd genetic report summary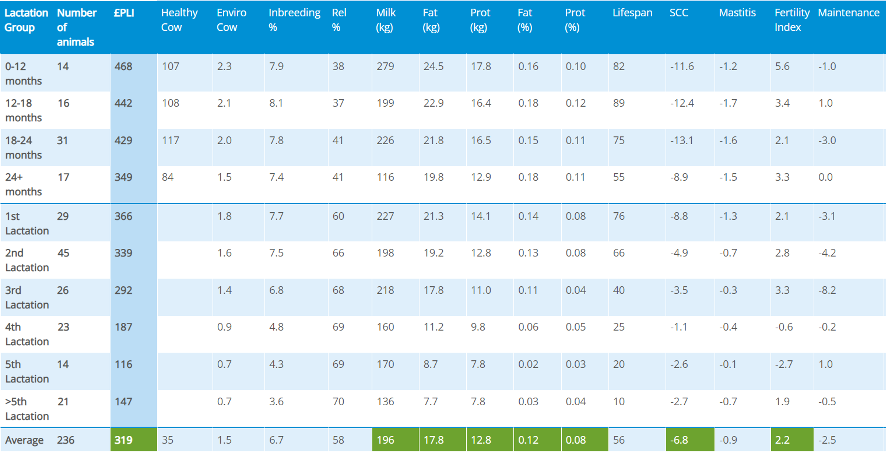 In addition to evaluating current herd genetic performance, the tool also allows farms to check for potential inbreeding risks when selecting bulls. Individual AI bulls can be compared against all animals in the herd and the inbreeding level of each potential mating determined. Any high inbreeding levels will be highlighted.
For help in accessing your Herd Genetic Report visit https://ahdb.org.uk/herd-genetic-report-sign-up or contact your AIS Breeding Advisor.